Another excellent review of Assassins. This time from Greggory Moore at Random Lengths News.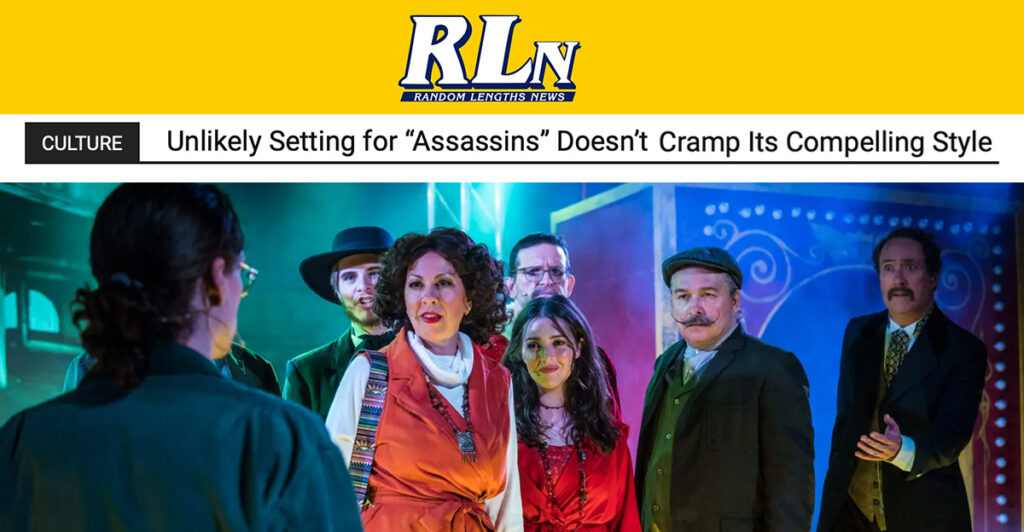 Here are a number of excerpts from the review.
From the first notes of Assassins, it was clear that the small orchestra (coming to us from the basement, we were told pre-show) was on-point from horns to tambourine, and the cast could sing…

– Greggory Moore, Random Lengths News
You need a good cast to pull that off. No problem here. Jay Dysart is strong throughout and a tour de force in the play's pivotal scene. Phineas Wilder make us unsure whether we should laugh or cry at his manic Charles Guiteau. And Maddie Levy and Emily Morgan as "Squeaky" Fromme and Sara Jane Moore —who unsuccessfully attempted to kill President Gerald Ford barely two weeks apart — have a lovely comedic chemistry.

Levy excels on the vocal front, too, especially on "Unworthy of Your Love", a clever duet between Fromme and Hinckley (Mark Waters, doing yeoman's work in one of the less flashy roles). As Leon Czogosz, Owen Lovejoy features prominently in the show's best consecutive pair of songs. And as the unnamed Balladeer, Bobby Brannon is an obvious standout. Although The Balladeer is not a well-written character — central to the narrative for a while despite having no contextual tie-in, then simply disappearing from the play's universe — Brannon lights up the stage with their smooth presence and easy vocal command. 

– Greggory Moore, Random Lengths News
Director/choreographer Megan O'Toole has made a stage that ought to be way too small for a show of this scope serve, even if just barely, blocking the proceedings to near perfection. 

– Greggory Moore, Random Lengths News
Now that I've discovered Long Beach Landmark Theatre Company, I hope they'll continue to take on serious work like Assassins, as opposed to tacking toward liter, populist fare. They're up to the challenge, and we're all better off when our entertainment is this thoughtful and thought-provoking. 

– Greggory Moore, Random Lengths News
Read the full review online here. And get your tickets to Assassins before they sell out!