As we continue rehearsing, singing and sweating, preparing our amazing production of Little Women the Broadway Musical for you in November, we thought we'd have some fun exploring a few of the other iterations of Louisa May Alcott's beloved tale, this time on film…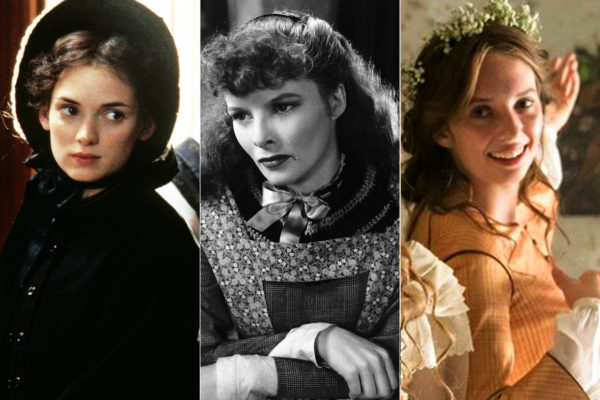 Little Women on film…
Reborn for new generations!
There have been no fewer than thirteen different adaptations of Little Women on film–eight for the big screen and five for television, beginning in 1917 with a silent production from Britain, all the way up to next year's highly anticipated production headed by Lady Bird's Greta Gerwig.  Here's a look at some of the memorable versions that you may recall…and one that we all wish we could forget!

The 1933 Version
This first sound version of the film was resoundingly praised by critics and was the 4th highest earner at the box office that year.  It was directed by George Cukor and starred Katharine Hepburn, who was cast as Jo, fresh from her first Oscar win for Morning Glory.  Of her performance, the New York World-Telegram wrote that she gave "an unforgettably brilliant performance–once and for all, she definitely proves how unlimited and effortless an actor she truly is."

The 1949 Version
Little Women of 1949 was an MGM spectacular and was of course filmed in Technicolor.  It was representative of  Hollywood's "Golden Days" when the films were lush and sappy, with realism kept at bay.  A 31-year-old June Allyson played 17-year-old Jo–whom critics opined, " while oozing sentimentality, can't hold a bayberry candle to Hepburn's Jo."  Elizabeth Taylor was an overly petulant Amy, Margaret O'Brien a much-too-young Beth, and future Rat Packer Peter Lawford was Laurie. 
Nevertheless, it was one of the biggest box-office hits of 1949.

The 1994 Version
This version of the film was very well received and rated a very strong 91% on Rotten Tomatoes.  Roger Ebert of the Chicago Sun-Times awarded the film 3½ stars, calling it "a surprisingly sharp and intelligent telling of Louisa May Alcott's famous story, and not the soft-edged children's movie it might appear."  It's probably the one best remembered by most of you–Winona Ryder as feisty Jo, Kirsten Dunst as precocious Amy, Susan Sarandon as strong and loving Marmie, and Christian Bale as a dreamy and loveable Laurie that every pre-teen girl fell in love with.

The 2019 Version
Coming next year will be yet another version of Little Women, this time directed by Greta Gerwig of Lady Bird fame, and starring Saoirse Ronan as Jo, Emma Watson as Meg, Laura Dern as Marmie, Timothee Chalamet as Laurie, and Meryl Streep as the always pompous Aunt March.  This eagerly anticipated retelling of the tale is scheduled to arrive Christmas 2019.

…And then there's the 1978 version
You knew it had to happen.  It was the 70's and the era of the mini-series, so naturally NBC hopped on the bandwagon with it's version of Little Women starring Susan Dey of Partridge Family fame as Jo, the Brady Bunch's Eve Plumb as Beth, Meredith Baxter-Birney as Meg, and what 70's mini-series would be complete without William Shatner as Professor Bhaer?  It's probably best if we just skip right past the reviews…
Create your own memories!
Join us for Little Women the Broadway Musical November 9-11 and 16-18